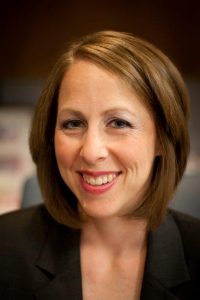 Rabbi Miller is the founder of MAKOMnj: A New Kind of Jewish Community. Rabbi Miller makes being Jewish accessible to all and helps everyone connect and find meaning in their own way. Working with Rabbi Miller is a pleasure. She is a great listener, is easy going and always helps people to feel safe.
Rabbi Miller sings and plays guitar. She uses her love of music to add a level of beauty and spirituality whether she officiates at a baby naming, at a Bar or Bat Mitzvah, or at a Wedding.
Rabbi Miller served as a congregational rabbi for nearly two decades, shaping her vision and her dream for vibrant Jewish living. Rabbi Miller strives to create a sacred, caring, joyful, community guided by a love of Torah, doing of mitzvot, and a love for Israel while connecting our rich Jewish tradition to modern life.
Rabbi Miller grew up in New Jersey. She is a graduate of the University of Pittsburgh with a B.A. in Communication Science and a certificate in Jewish Studies. She is an alumna of the Hebrew Union College-Jewish Institute of Religion where she earned her Smicha (certificate of ordination), a Master's Degree in Hebrew Literature, as well as a Master's Degree in Religious Education. Rabbi Miller is the founder and Rabbi of MAKOMnj. Rabbi Miller is a past president of the Morris Area Clergy Council and proud to be a Rabbis Without Borders fellow.
Rabbi Miller lives in Morristown with her children, Sam, Meg and Jack.
Click Here to read more about Rabbi Miller
Click here for more information about MAKOMnj